Elissa Nader - Placement Student 2022
Archival research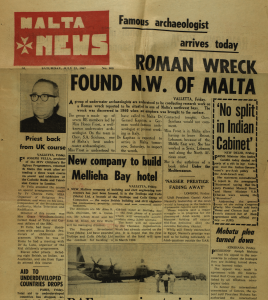 The time I have spent learning about Honor Frost's archives have been quite interesting. I was assigned a placement with the Honor Frost Foundation, as part of the Professional Placement module in the MSc Maritime Archaeology programme. The placement consists of looking into the archives of some of Honor Frost's work in Tyre and Malta from the late 60's. The last-mentioned is a pioneer in the field of maritime archaeology, and one of the scholars who invested in its development. https://honorfrostfoundation.org/honor-frost/.
The object of the work was to provide the head office of the Underwater Cultural Heritage Unit in Malta with data from Honor's work on the 'Mortar Wreck' to be exhibited in the Under the Med Conference . Then, to look into Honor's work in Tyre to understand the potential benefit the data can provide for other projects that the HFF is running in Lebanon, specifically in the coastal city of Tyre.
The conference organizers received duplicates from the archives that they will be able to display in their exhibition in November. The duplicates consist of Aerial photographs excavation and survey results, correspondence between Honor and Malta. The later include all the illustrations done by Honor of pottery, site plans, maps, sketches, and glass drawings. In addition to notes taken during the work, publications, lab results and reviews. All the material is in relation with the Mortar Wreck, an UW site excavated by Honor.
The archives give a general idea on the condition of the site in the late 60's, and the results of the work done on it by Honor and other researchers. What is exciting about working in the archives of an excavation is first being able to have an overlook about the whole process of the excavation, from putting a team together till receiving reviews about the success of the project. This personally inspired me into learning from Honor's systematic thinking on how to run underwater excavations. Furthermore, I experienced how useful and essential archives can be in the desk-based stage of archaeological fieldwork.
I have been given the opportunity to do many different tasks and skills gained that I had yet to experience in the past. Learning about shipwrecks is one of my favourite areas in maritime archaeology and I got to explore this interest within this placement. Furthermore, I learned about handling archives, creating database, and communicating with professionals. Finally, the foundation is supporting me with a bursary to attend the UMII conference and learn about the exhibition and the museum. I am looking forward to see the results of the research I conducted being used by professionals in such international event.
References
(https://archives.soton.ac.uk/records/MS439/A4278/HFA/1/10)